The
Toy Joy Funky Love Balls
come presented in a plastic inlay to keep them in place, inside a fairly discreet, firm, yet flexible plastic box with the balls clearly on display. It even comes with a cute little string handle which is the same colour as the balls. I must say, I absolutely love the packaging and its simplicity.
The main purpose of using love balls is to tighten and strengthen the kegal muscles which will result in better bladder control, a tighter vagina and in-turn more intense orgasms. They can also however be used just for pleasure purposes. Other names love balls are known as include kegal balls, jiggle balls, and ben wa balls...they all have the same purpose and come in a range of materials, sizes and weights.
The
Toy Joy Funky Love Balls
are made from a solid ABS smooth matt coated plastic which feels really soft and velvety. As you can see in the images, the balls are not seam free, but I can assure you that I couldn't even feel the seams when inserting the balls so don't let their presence put you off - most jiggle balls like this aren't seam free either. The balls are attached together by a string cord which is nice and sturdy, and on one of the balls a safety loop cord is attached so that the balls can be pulled out easily. If you're out and about whilst using the
Love Balls
then you needn't worry as the safety cord is small enough to slip into your underwear...provided your wearing some in the first place! You can use either a water-based or silicone lubricant with these jiggle balls, but water-based is usually best. If you don't have any handy then you can pick some up
here
.
My Experience:
This was actually my first experience with any type of jiggle balls, and I must say, I was pleasantly surprised!
To aid with inserting the
Love Balls
I applied a generous amount of water-based lubricant to both of the balls ensuring that I had covered them both completely. Inserting the love balls turned out to be a lot easier than I had initially thought. I thought it might have been a little tricky pushing a circular object covered in slippery lube into my orifice, but no problems at all! Once both balls were inserted I could already feel my inner walls reacting to their presence.
I am already fairly tight so I don't really need to use the jiggle balls for their main purpose, which is to tighten and strengthen the kegal muscles, so I haven't used these as often as required for this sole purpose. I therefore can't really give an insight as to whether or not using these constantly will genuinely help tighten the kegal muscles. What I can do though is let you know how I got on with them purely for pleasure purposes.
I have known a lot of people to gain great pleasure out of using jiggle balls whist going about their daily routine and / or walking, so I decided to put this to the test myself. The
Love Balls
claim to be silent, but when on my own in a quiet environment with absolutely no noise at all, I can hear the balls rocking about a little bit. Once outside though with some environmental noise present (cars, people, etc..) then I can't hear the balls jiggling around at all, which as you can imagine I am very thankful for.
I can't even begin to describe the pleasurable sensations I experience whilst using the balls when walking. The slow rocking of the inner weighted balls can be felt with every movement and each time they give me new waves of pleasure which only heightens the longer I keep them in. And if they're positioned correctly they even tap against and massage my G-spot for even more pleasure.
Removing the
Love Balls
is made much easier with the addition of the safety loop. Simply pull on the loop and the jiggle balls will be withdrawn.
Cleaning the jiggle balls is really easy. To clean I simply used some soap and warm water and dried the balls with a clean towel, obviously the string cannot be dried in the same way so I left them to air dry as well. You can also use a specialised sex toy cleaner if you prefer, you can pick up Toy Joy's very own
toy cleaner
for £7.99.
Measurements:
Length: 9 inches (including all string)
Circumference: 4.5 inches
Weight: 25g per ball (approximately)
Where to Buy:
The
Toy Joy Funky Love Balls
are currently available in pink and in blue, and can be purchased at
Sweetsutra.com
for £8.99.
*
All prices are correct at the time of posting and are subject to change.
*This product was sent to me free of charge in return for an honest review. In no way does this affect

my opinions and experience of the product.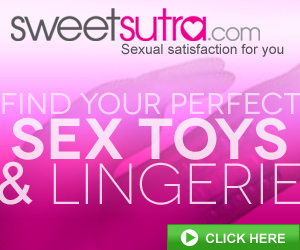 A big thank you to
Sweetsutra.com
for sending me two of the Toy Joy products that are available to purchase on their website for me to review.